Tue Greenfort: Medusa Alga Laguna
Collateral Event of the 59th International Art Exhibition – La Biennale di Venezia
23 April – 1 November 2022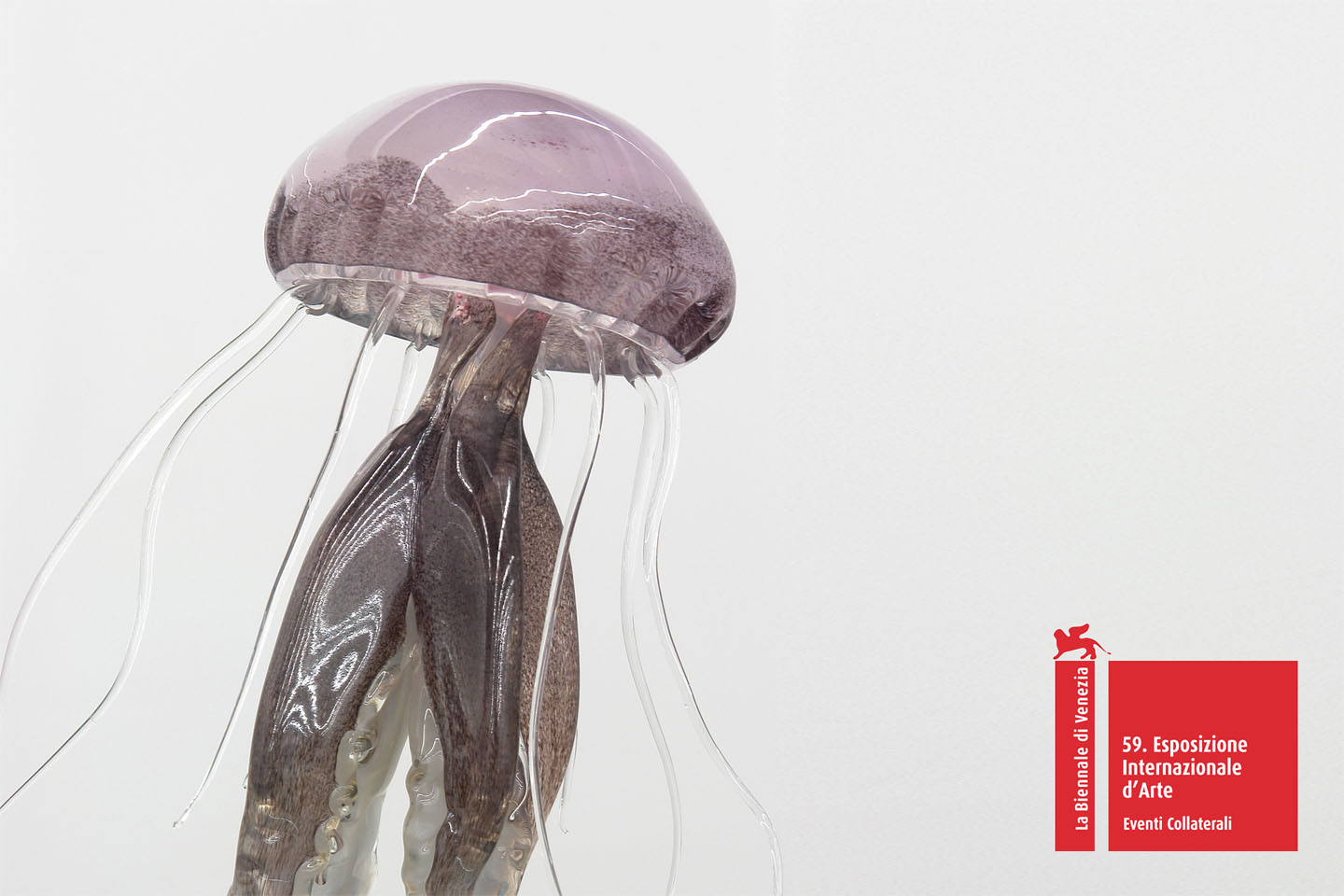 For the first time, the ERES Foundation will be present at the Biennale Arte 2022 as a Collateral Event. Tue Greenfort's project "Medusa Alga Laguna", continues and expands the foundation's Munich exhibition "Alga" (2021) in Venice. Greenfort's approach of incorporating the ecological condition of an exhibition's natural environment into his artwork interfaces with another core theme of the foundation – the scientific examination of climate change and species extinction. Venice, with its lagoon a sensitive ecosystem in itself as well as a city particularly affected by climate change, is just as much a focal point of the Biennale event as the foundation's desire to help preserve Venice and its unique cultural heritage of arts and craftsmanship.
Crisp green glass works hang from the ceiling, while delicate paper tondi reveal filtered traces of algae from the Venice Lagoon. Medusa (jellyfish) sculptures from Murano's glass workshops float in the exhibition space, plaster casts of beach sections concentrate on the coast as a biozone, whereas extracts of local newspapers elucidate the current environmental state of Venetian waters.
The installation "Medusa Alga Laguna" by Danish conceptual artist Tue Greenfort focuses on diverse interspecies life in the Lagoon. The artist brings in human and non-human relationship by reflecting on organisms that are mostly neglected and often barely visible. The fascination with scale is a point of departure for many of his projects. His micro/macro-cosmos perspective is the basis for his installation, which transports us into the biodiverse world of Venetian waters and reveals the complexity of lifeforms such as algae and medusas. Algae are pre-human lifeforms that are increasingly becoming a significant issue in the balance of oceanic ecosystems and the global impact of intensified industrial farming which has led to a glut of nutrients in the world's oceans, a phenomenon known as eutrophication. These three billion years old survivors, creatures of the planet's breathable atmosphere, are now a curse as well as a blessing.
As part of Greenfort's solo exhibition – collateral event of the Biennale Arte 2022 – his earlier project "Medusa" (2007), which consisted of Murano glass jellyfish, has now returned to Venice. Given the number of years gone by and in light of the ideas behind the initial project, this is a propitious opportunity to examine the current situation. Reflection on time span makes glass a suitable material. Greenfort's use of glass is a reference to the realistic glass representations of the Bohemian Blaschka family. Their botanical and zoological glass models – including maritime creatures – were extremely popular in the mid-19th century as teaching models in the natural sciences as well as collectors' items. The handcrafted technique is still considered unrivaled today. With the glass workshops on Murano, however, a centuries-old craft tradition has survived to this day. The fact that Greenfort's "Medusa" was made in Murano establishes a time reference to a 19th century form of nature presentation and incorporates modern tourism. Mass produced glassware, including jellyfish, are sold in souvenir shops as sought-after collectibles in the lagoon city.