Thomas Feuerstein: Prometheus Delivered
11 January – 24 March 2018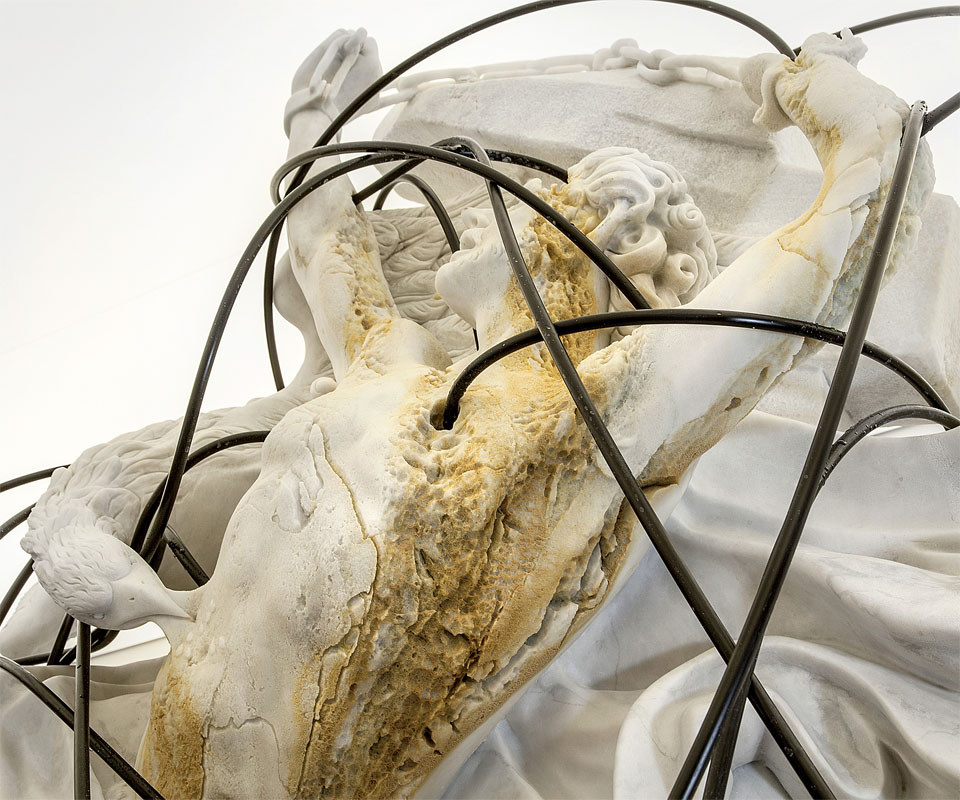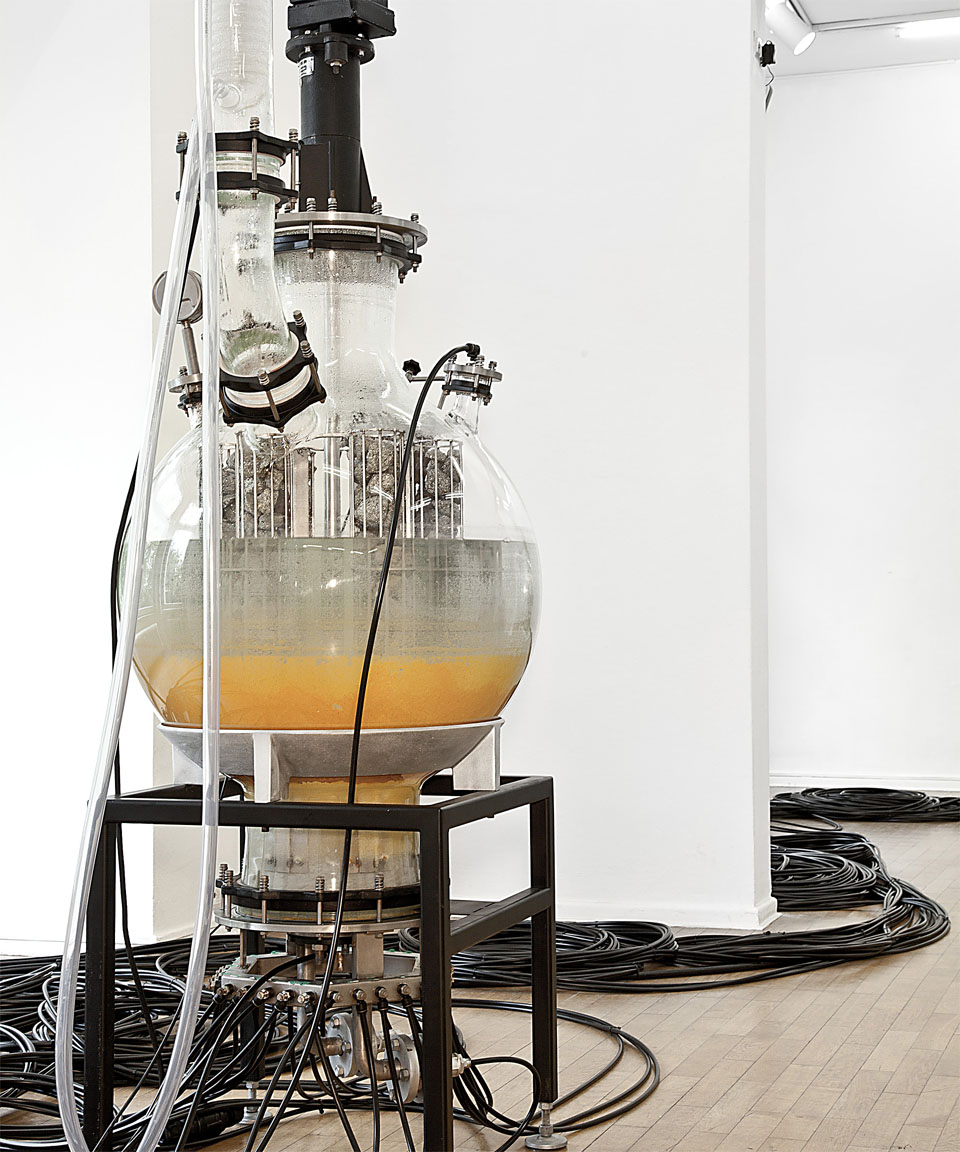 Stone is turned into meat. This spectacular project entitled Prometheus Delivered is an installation that Thomas Feuerstein stages as a fascinating laboratory of bubbling bioreactors, mysterious fluids, pumps and endless tubes which wind around a classicist marble sculpture of Prometheus and meander through the entire exhibition. It is the first major solo exhibition of the Austrian artist in Munich. The ERES Foundation is pleased to present Thomas Feuerstein, one of the most influential contemporary players in the borderland where art and science meet.
At the center of the installation is a sculpture, a replica of the Prometheus statue by Nicolas-Sébastien Adam (1762), and features its gradual decomposition. The miraculous protagonists of this process of metabolism are stone-eating (chemolithoautotrophic) bacteria. They convert the marble into plaster and, in a further complex transformation, they themselves become the food of human liver cells. The cycle of destruction and re-creation inherent in the Prometheus myth is replicated in a biochemical process. Zeus chained Prometheus to a rock in the Caucasus as punishment for bringing fire to people and thus technology. An eagle rips his liver out of his body – but every night it grows back again. The final result of Thomas Feuerstein's Prometheus Delivered is – by analogy to the myth – a bioreactor in which human hepatocytes grow and finally form a new three-dimensional liver sculpture. As in antiquity, the liver becomes the organ and a medium that looks into the future because Feuerstein's installation gives us a glimpse into a time to come in which human beings no longer subsist on animals and plants, but possibly on their own body cells.
The exhibition presents this narrative using drawings and objects, sets them to music that also incorporates a radio play, and performs them by means of biochemical processes. In addition to focusing on sound scientific facts, the show is also a science fiction story and a splatter movie on the brink of horror.
Thomas Feuerstein was born in 1968 and lives in Vienna. Working at the intersection of applied and theoretical science, he links insights from philosophy, art history and literature with biotechnology, economics and politics in his projects. In doing so he creates an artistic narrative that raises questions about basic existential parameters and the origin of life.
Cooperation: The exhbition is funded by the support of the ERES Foundation in collaboration with HaL, Haus am Lützowplatz, Berlin.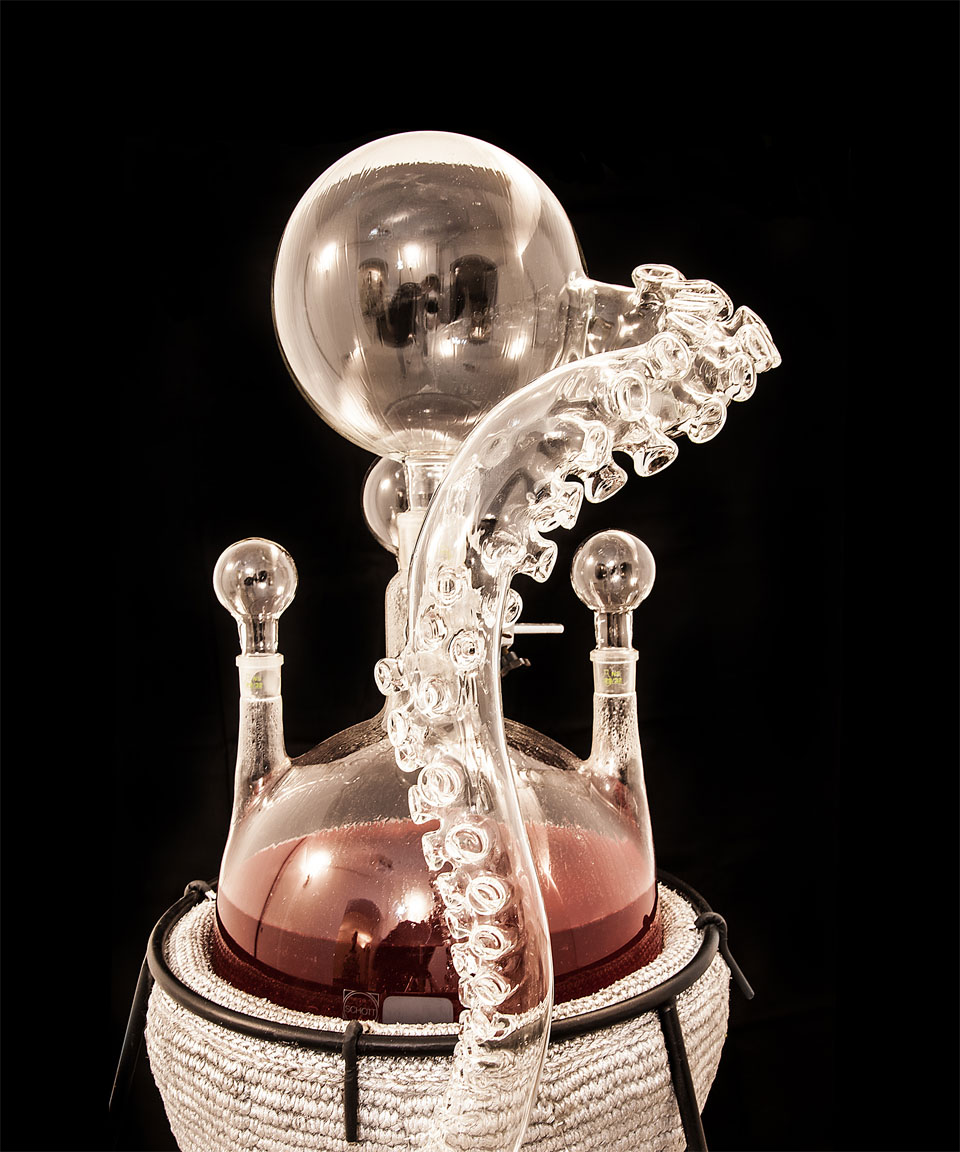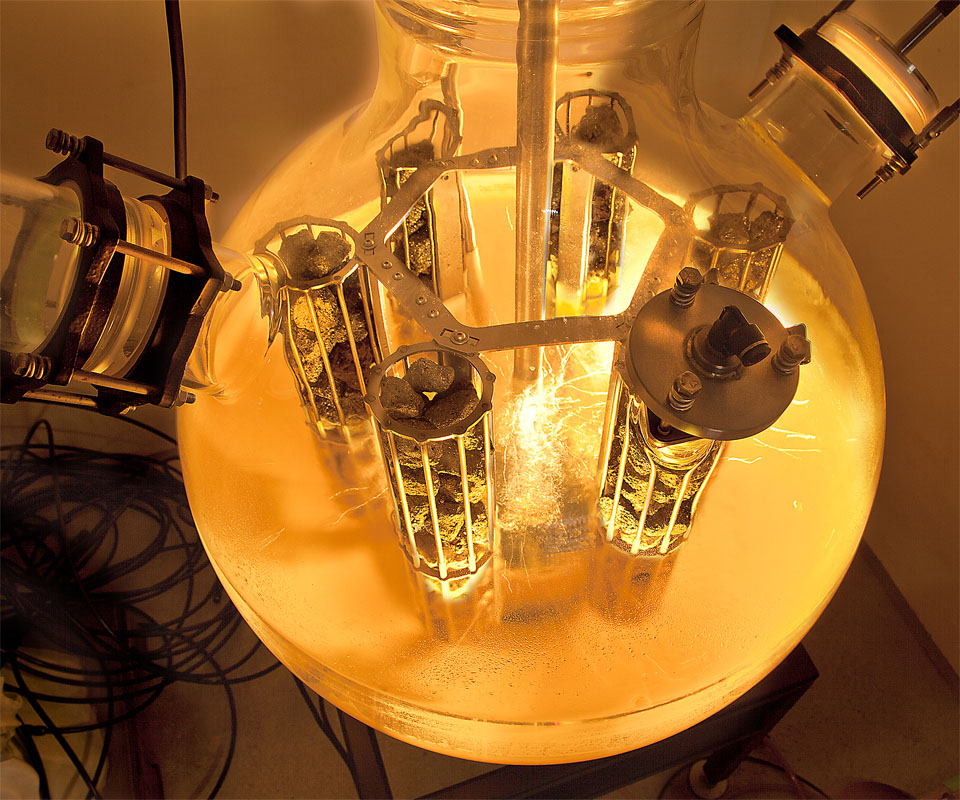 Tuesday, 30 January 2018, 7 pm

Prof. Dr. Wolfgang W. Schmahl, Professor of Inorganic and Biogenic Geomaterials, LMU Munich and Director of the Mineralogical Bavarian State Collection Munich
Connection between life and death.
Biomineralisation as a modern science of rocks and creatures

Wednesday, 28 February 2018, 7 pm

Ass. Prof. Dr. Thomas Seppi, Department of Radiotherapy and Radiooncology, Medical University of Innsbruck
Liver from the laboratory?
Tissue engineering, extremophile bacteria and 3-D cell cultures. Current state of research on artificial "Organs"

Thomas Feuerstein
Carnale Re-Evolution.
Cellular economy and cannibalism
Accompanying the exhibition is a catalogue, 168 pages (german/english), EUR 10,00
Order via Catalogues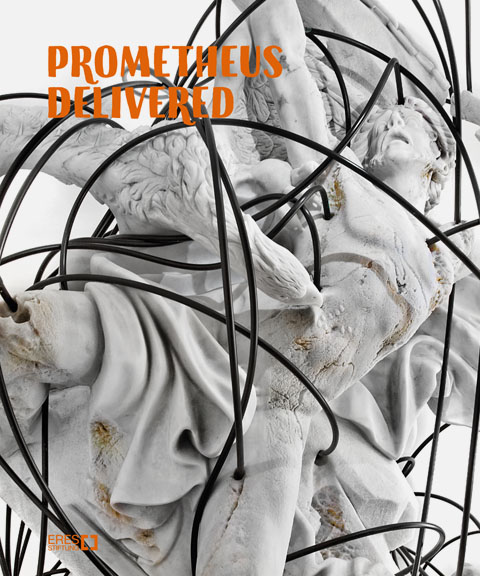 Prometheus delivered. Thomas Feuerstein in der ERES-Stiftung
B2 kulturWelt / B5 aktuell, Joana Ortmann

Titanenkampf mit den Steinfresserchen
Oberbayerisches Volksblatt, 12. Januar 2018, Alexander Altmann
Artikel als pdf

Der Biotech-Titan
Münchner Feuilleton, Januar 2018, Quirin Brunnmeier
Artikel als pdf