Stephan Huber: World Atlas
16 January – 28 March 2015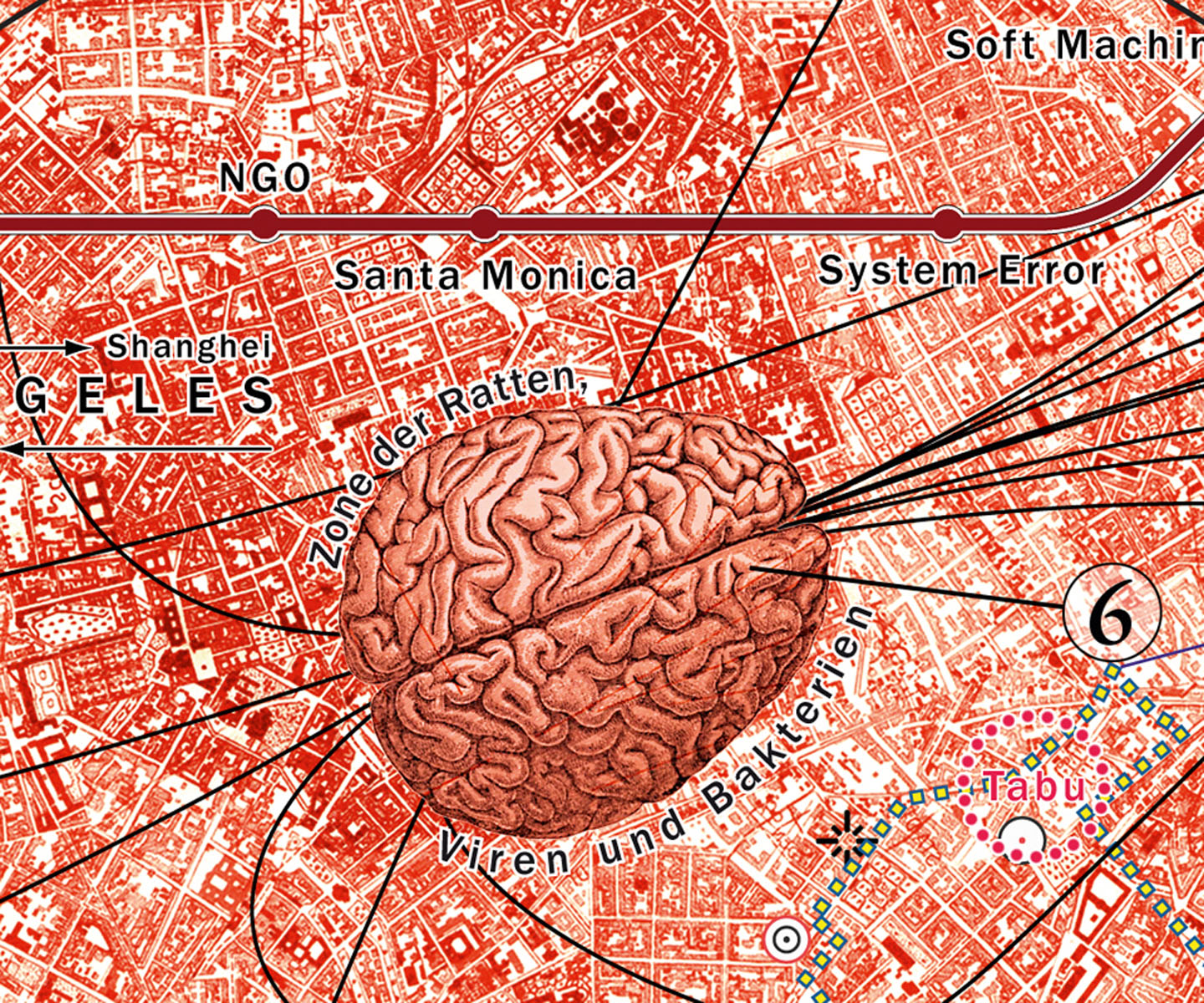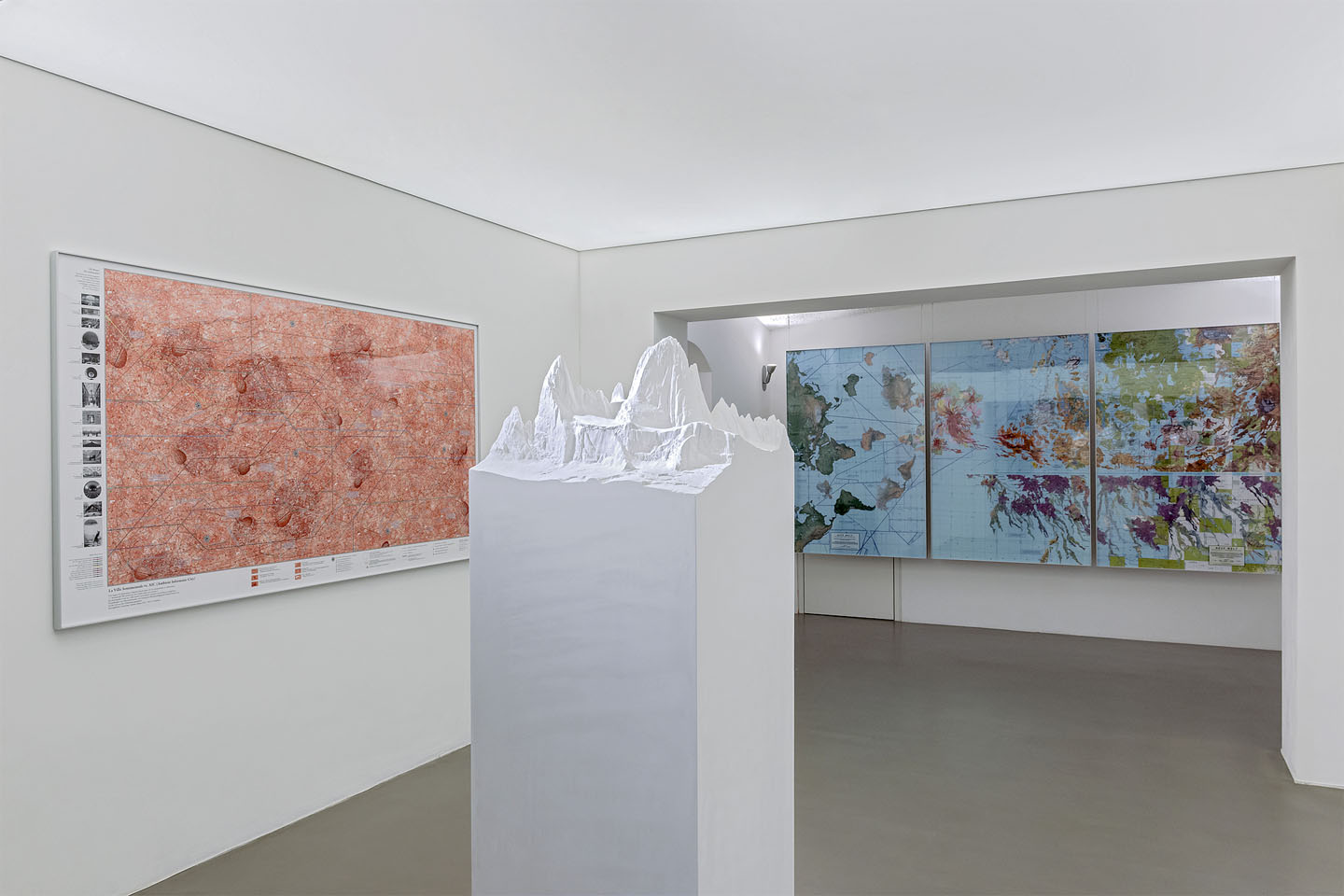 Since the 1990s, Munich sculptor Stephan Huber has been creating very personal large-format maps that take beholders on fascinating journeys to the most diverse realms of science and human experience. Huber does this by creating collages using existing maps he combines with maps of his own making that include personal experiences as well as philosophical, historical and political references. Radically subjective surveying criteria question a purportedly incorruptible and exact system of order. The decidedly sensual selection of the maps and their aesthetic development open our eyes to the beauty of a traditional medium that conveys knowledge.
This ERES Foundation exhibition brings together - for the very first time - selected works from all phases of Huber's life. In addition, Stephan Huber will present four true-to-scale models of his "favorite mountains". In neutral white, these sculptures reproduce the archaic natural form of the mountains while clarifying, embellishing and overstating them, and by doing so, transforming them into works of art.
The supporting scientific program of the ERES Foundation will look into contemporary trends in cartography. This scientific discipline is currently undergoing substantial changes brought about by digitalization, big data and the internet. Electronic navigation systems are replacing printed maps and are increasingly becoming interactive, multimedia-based and spatially modeled. Smart phones make them available everywhere and they fit the needs of users wherever they may be. To what extent are these technical tools changing our sense of orientation, our day-to-day lives and our worldview?
Monday, 19 January 2015, 7 pm

Reinhold Messner
No Room For Mistakes
On Cartography and Mountains

Monday, 2 February 2015, 7 pm

Dr. Tobias Meilinger, Max-Planck-Institute for Biological Cybernetics, Tübingen
Navigation and the Brain. How We Know Where We Are and Where We Want To Be

Thursday, 19 February 2015, 7 pm

Symposium
Surveyed Worlds – Cartography in the Arts and Sciences

Prof. Dr. Stephan Berg, Artistic Director of the Kunstmuseum Bonn
Prof. Dr. Georg Gartner, Head of the Research Group Cartography, Technical University of Vienna and President of the International Cartographic Association (ICA)
Prof. Stephan Huber, Artist
Prof. Dr. Verena Krieger, Chair for Art History, Friedrich Schiller University Jena

Monday, 2 March 2015, 7 pm

Prof. Dr. Georg Glasze, Chair for Geography, Friedrich Alexander University Erlangen-Nuremberg
How Big Data and Crowdsourcing Are Turning Us All Into Cartographers – Whether We Like It Or Not
Georg Glasze über »kritische Kartografie«
B2 KulturWelt, 02. März 2015

Die Kartographie eines subjektiven Systems
ARTMuc, März 2015
Artikel als pdf

Neue Reisebücher
Frankfurter Allgemeine Sonntagszeitung, 8. Februar 2015
Artikel als pdf

Phantastische Welt-Vermessung
Süddeutsche Zeitung, 28. Januar 2015
Artikel als pdf

Multitalente
B2 KulturJournal, 18. Januar 2015

Kartografie des Phantastischen
Süddeutsche Zeitung Extra, 15. Januar 2015
Artikel als pdf

»Weltatlas«: Stephan Huber-Ausstellung in der ERES Stiftung
B2 KulturWelt, 15. Januar 2015

Die Verortung des Ich und was sonst noch so da ist
in münchen 01/2015
Artikel als pdf

Die Welt als Karte und Vorstellung
und – Das Münchner Kunstjournal, Jan./Feb./Mrz. 2015
Artikel als pdf